Carnivale brings a rich menu of multicultural theatre to Sydney.
Barbara Karpinski reviews Binh Duy Ta's play about Vietnamese experiences in Australia.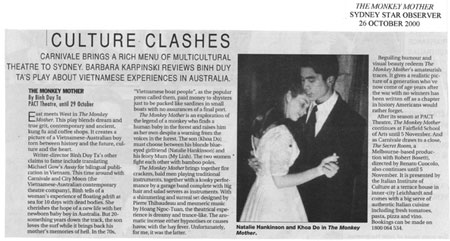 The Monkey Mother
East meets West in The Monkey Mother. This play blends dream and true grit, contemporary and ancient, kung fu and coffee shops. It creates a picture of a Vietnamese-Australian boy torn between history and the future, culture and the heart.
Writer-director Binh Duy Ta's other claims to fame include translating Michael Gow's Away for bilingual publication in Vietnam. This time around with Carnivale and Citymoon (the Vietnamese-Australian contemporary theatre company), Binh tells of a woman's experience of floating adrift at sea for 10 days with dead bodies. She cherishes the hope of a new life with her newborn baby boy in Australia. But 20-something years down the track, the son loves the surf while it brings back his mother's memories of hell. In the 70s, "Vietnamese boat people", as the popular press called them, paid money to shysters just to be packed like sardines in small boats with no assurances of a final port.
The Monkey Mother is an exploration of the legend of a monkey who finds a human baby in the forest and raised him as her own despite a warning from the voices in the forest. The son (Khoa Do) must choose between his blonde blue-eyed girlfriend (Natalie Hankinson) and his feisty Mum (My Linh). The two women fight each other with bamboo poles.
The Monkey Mother brings together firecrackers, bald men playing traditional instruments, together with a kooky performance by a garage band complete with big hair and salad servers as instruments. With a shimmering and surreal set designed by Pierre Thibaudeau and mesmeric music by Hoang Ngoc-Tuan, the theatrical experience is dreamy and trance-like. The aromatic incense either hypnotises or causes havoc with the hay fever. Unfortunately, for me, it was the latter.
Beguiling humour and visual beauty redeem The Monkey Mother's amateurish traces. It gives realistic picture of a generation who've now come of age years after the war with no winners has been written off as a chapter in history Americans would rather forget.