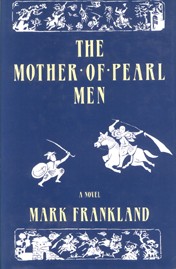 and my Vietnamese friends
In the province of Thua Thien
The boys are wise, the girls beautiful,
The mountain blue, the water violet,
The palace of jade, the rivers crystal.
There is a seven-storey pagoda there,
An Imperial temple and the Lord's pagoda.
How greatly are they to blame who have nourished
duplicity in their heart,
And who for foreign money have betrayed the poor
people's trust!
Old Vietnamese popular song
According to Vietnamese legend the Vietnamese are children of King Kinh Duong Vuong, a descendant of Dragons and an Immortal called Au Co. One day the King said to his wife: 'I am from the race of Dragons, you from the race of Immortals. Water and fire destroy each other: it will be difficult for us to live together. So we must separate'. Half the children returned with their mother to the mountains and the rest followed their father to live by the sea.
from Le Thanh Khoi's

Le Viet-Nam
This story would never been written if I hadn't rediscovered the Vietnamese tray. I work for an oversea bank, and when I was in London recently between postings I brought some suitcases and boxes out of storage; on earlier visits home I had packed them with old letters and papers and souvenirs.
I didn't recognise it at first. All I could see at the bottom of a cardboard box were strips of dark, almost black wood, each about a foot long. I took one out and only when I turned it over in my hand saw the prancing and swaggering little figures. They were made of mother-of-pearl and set into the dark wood - horsemen waving long swords in both hands, foot-soldiers carrying dragon-tailed banners, battle-axes and spears.
I picked out another piece of wood and there were more of the little men, this time four horsemen fighting in front of a castle wall. One horse was leaping as his rider swung back over his head a scimitar-shaped blade set into a pole. Another horse had fallen and the rider raised his lance as if to ward off the leaping horseman's blow.
There were four of these strips of wood and they formed the tray's deep sides. At some point in my travels it must have been broken and reduced to these pieces. I laid them out in a line across the floor and the figures, frozen in their martial leaps, shone back at me with an unworldly green and pinkish-purple light. I tried to remember where in Saigon I had bought it. As I looked at the figures, each no more than an inch tall but carved in restless detail, the faces came back to me.
Mr Ba, puzzled but always refusing to admit defeat; Maurice, so smooth on the surface but underneath as nervous as an animal; the enraged Colonel Dinh; Father Lam, who looked anguished even when he laughed; old Do grinning stupidly as he beckoned us on to yet another disaster; and the soldiers, both the 'other gentlemen' who were so quiet and the government's men who were almost noisy, Gruson, too, belonged there though he wouldn't have thanked me for placing him in each company.
They are the figures on the strips of wood, condemned to chase and fight each other for ever. There was so much energy in the tiny, aggressive men that I felt as though I was looking at a film that had never been stopped. It might start at any moment. The figures would move and the horses spring forward, the weapons clash and the chase would begin all over again.
I had seen none of them for over ten years but they seemed as vivid as if I never left their bewitched country. I could feel the heat of those days at the end of the dry season when the climax was reached and each morning I woke to find myself trapped deeper and deeper within the circle of intrigue that had become a habit for them. I felt a brief, almost physical pain as though I, too, had lost something in my encounter with these mother-of-pearl men and the mysterious missing limb throbbed. Most people in my world consider me a successful husband, father and businessman, but looking at the shattered tray reminded me that my life has something about it of a cripple's performance. Most of the time it is so excellently done that I take even myself in, but something was destroyed in Saigon.
One face was missing among these pigmy warriors: Thai's, half child, half old man. Perhaps he truly did not belong there, for he was exhausted, burned out, to keep the others going. And so although it happened several years ago in a country that no one cares much to think about any more I decided to put down Thai's story.
---------------
From Mark Frankland,
The Mother-of-Pearl Men
, John Murray, London, 1985.
_____________________
Books by M. Frankland:
-
The Mother-of-Pearl Men
(Novel), John Murray, London, 1985.
-
Richard Robertovich
(Novel), John Murray, London, 1987.
-
Child of My Time
(Autobiography) Chatto & Windus, London, 1999.
Winner of PEN literary prizes "J.R. Ackerley Prize for Autobiography, April 8, 2000.
-
Freddie The Weaver: The boy who fought to join the world
(Biography), Sinclair Stevenson, London, 1995.
-
Glaswände, Leben mit einem Autisten
(Freddie The Weaver), Ventura Publisher im Verlag, Germany, 1996.
-
Khrushchev
, Penguin Book Ltd, Political leaders of the Twentieth Century, Penguin Book Ltd, England 1966.
-
Khruschev
, Stein and Day Publishers, New York, 1967.
-
The Sixth Continent: Russia and the making of Mikhail Gorbachov
, Hamish Hamilton, London, 1987.
-
The Patriots' Revolution: How East Europe won its freedom
, Sinclair Stevenson Ltd, London, 1990.
Short listed for the NCR Book Award for Non-Fiction, London, 1991.
-
The Patriots' Revolution: How Eastern Europe Toppled Communism and Won Its Freedom
, Ivan R. Dee Publisher, Inc, Elephant Paperback 1993.
-
Who Won The Cold War
(The eleventh Nicolas Bacon Memorial Lecture), The Forest of Dean Newspapers Ltd., 1990.
-
Radio Man: The Remarkable Rise and Fall of C. O. Stanley
, Institution of Engineering and Technology, London, 2002.
-------------
Những tác phẩm của Mark Frankland đã đăng trên Tiền Vệ:
Cho dù cách thức bạn nhìn vào cuộc chiến tranh này từ khía cạnh nào đi chăng nữa, thì các vụ ném bom 'trả thù' vào cuối tuần qua đã thể hiện sự kiêu căng phô trương lực lượng xứng đáng với chủ nghĩa đế quốc thế kỷ 19... [Bản dịch của Nguyễn Đăng Thường]
(...)
[TƯỞNG NIỆM MARK FRANKLAND (1934-2012)]
... Klíma vẫn chưa bị thất vọng.
"Phần đông chúng tôi đều nghĩ loại bỏ được cộng sản là một cái may cho tổ quốc. Dĩ nhiên ai nấy đều trông chờ phép lạ. Người ta vẫn nghĩ cách mạng sẽ giải quyết được hết mọi vấn đề của nhân loại. Thật ra cách mạng chẳng giải quyết được gì cả, chúng ta phải tự giải quyết lấy mọi chuyện. Cuộc cách mạng hầu hết chỉ tăng thêm rối rắm, tệ hại. Cuốc cách mạng của chúng tôi đích thực không phải là cách mạng, nó chỉ là sự tự diệt của một guồng máy cai trị đã hết hiệu quả, chẳng cần tới một phát súng, hay một giọt máu. Một phong cách rất Tiệp. Nhưng dù gì thì cũng đã có thay đổi lớn."
... [Nguyễn Đăng Thường chuyển ngữ / Hoàng Ngọc Biên giới thiệu]
(...)
[TƯỞNG NIỆM MARK FRANKLAND (1934-2012)]
... Trong và cả sau chiến tranh, tiếng nói của người dân miền Nam thường bị lãng quên. Là một phóng viên ngoại quốc trong cuộc Chiến Tranh Việt Nam, tôi có may mắn được nghe phần nào tiếng nói ấy qua phụ tá người Việt của tôi. Nhưng lúc đó thì anh ta đã ở tuổi trung niên với cả gánh nặng gia đình nên đã không thể theo sát tôi đi vào vùng có giao tranh để giúp tôi hiểu biết hơn về những người lính Việt Nam Cộng Hòa, thay vì hiểu sai lạc...
(...)
... Cô hát bài hát có nhịp êm chậm và trầm bổng với thân hình đứng thẳng gần như không cử động, hai tay buông xuôi, và rõ ràng là cô không muốn làm dáng với cử toạ. Nhưng cô diễn tả bài hát như thể nhạc và lời đến từ đời sống của cô, và cô không hát cho cử toạ mà cho chính cô, dù nghe với đôi tai ngoại quốc của tôi... [Bản dịch của Nguyễn Đăng Thường]
(...)
"Nghe đây, hỡi anh bạn đồng chí cũ của tôi ơi, tôi muốn cám ơn anh về sự hỗ trợ của anh và tất thảy mọi việc khác. Kết quả tất nhiên đã không được như mong muốn, nhưng anh đã tận dụng hết sức lực của mình..." [Bản dịch của Nguyễn Đăng Thường]
(...)
... Ông thấy đó, những người theo đạo Chúa đã mang ánh sáng chân lý đến cho chúng tôi, nhưng đồng thời họ cũng sử dụng nó để đặt chúng tôi dưới ách thống trị của người Pháp. Do vậy mà nó đã trở thành một chân lý bị ô nhiễm, và chất độc đã xâm nhập chúng tôi, những tín đồ Công Giáo, cho tới hôm nay... [Bản dịch của Nguyễn Đăng Thường]
(...)
[Một chương trong tiểu thuyết The Mother-of-Pearl Men] Buổi trưa hôm sau trời đổ mưa, trận mưa đầu tiên từ khi tôi đặt chân đến thành phố này. Nhưng nó không to hơn một trận mưa vòi sen mà đường phố nóng bỏng đã hút cạn ngay, chẳng khác gì một kẻ đang khát được đưa cho vài giọt nước để bông đùa... [Bản dịch của Nguyễn Đăng Thường]
(...)